In the above printscreen you can see the results that our team has earned for an online store which sell clothing items for children.
Between May 1-30 2019, we ran more campaigns than those in the picture. With this amount invested, we were able to get 2,294 conversions totaling $ 323,640 revenue, wit a total cost of $ 13,820.
The average cost per conversion was $ 5.78. The account is senior and has been optimized for a long time, which is why the average conversion rate is 4.58%.
Since the beginning of our collaboration with us, this customer enjoys extremely good results and we have always been able to be effective for them. Every campaign manages to generate conversions at very low costs, which allows us to try to attract new customers.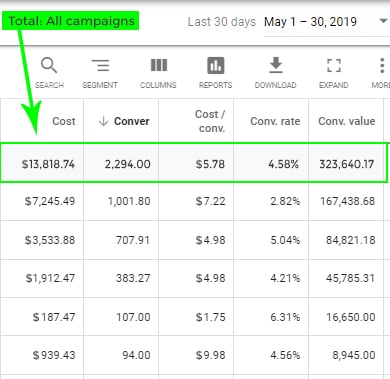 We are certified!

Do you want to work with us?
7 reasons to work with Promos Google Ads Agency
Increased sales
Google Ads increases sales because it responds to a rational immediate need, for example the people who search "leather shoes for man" will find the products easier. We can offer complex campaigns of Search, Display, DSA, Remarketing, Gmail Ads and Youtube Ads.
More visits
From the first days of of implementation the number of visits on your site will visibly increase. The acceses will be closely watched so the investments will be used only in the people interested in the products or the services you offer.
3. Popularity
By positioning on the first page your site, the number of your possible clients will grow, and your brand will be where it matters. Also, we implement brand protection because we know how important it is to protect your business.
Contact us, we answer in maximum 24 h!
We can help your business
Your company need an google ads agency like us. We have expertize in google ads campaigns. We know how to increase your sales using growth hacking techniques.
We have colleagues in New York, Los Angeles, Florida, Toronto, Melbourne and other cities. We are specialized in digital marketing services for e-commerce in fields like real estate, auto, apparel, cosmetics, tourism, health products and others.
We are an full service google ads agency and we can offer all that you need.
Measurable results
Google Ads brings at your disposal lots of data and statistics about the performance of your campaign. At the end of each month you will receive a report and new ideas for your business. Our team is made up by specialists certifyed by Google Ads.
Rapidity
You can see the leads and the sales of the campaign very fast, even if you're contacted or register a sale in your online store.
Controlled budget
You decide how much to invest. We optimize the campaigns accords to you available budget so we can obtain a large number of conversations at a low cost.
Remarketing
Keeps  in touch with the customers that have visited your site, creating various targets depending on the action they on the site. It's essential to create remarketing campaigns in order to remeber to the users about your website.
Setting the objectives and creating a strategy to advertise Google Ads represents the first step in collaborating with the site's owners, following that, based on the monthly report budget on our disposal to estimate the results we want to obtain and if the budget is enough for what we want to do.The following steps are represented by an analysis of the products, of the market and the campaign set-up. An important aspect of Promos' team is that they optimize the campaign easily in order to obtain conversions at low prices.
Google Ads represents one of the fastest and most efficient methods of digital marketing. This platform will provide you more types of campaigns which can be implemented depending on the field of activity, and the most important ones are:
Search campaigns which deliver to the customers relevant announcements when they search for something close to what you offer.
Display campaigns which selects the users depending on what they're interested and delivers banners to them.
Remarketing campaigns which target the persons that have been on the site and/or had any activity on your site.
Dynamic campaigns which are perfect for online shops.
The collaboration with an Google Ads or PPC Agency offers you the possibility of working with the best specialists in the field.
What can you obtain from the AdWords campaigns?
         Fast results
We can create Google AdWords campaigns in less than 24 hours after you singned the contract.
Your announces will be the first results from Google.
Your services/products will be visible when the customers needs them.
We adapt to the requests and we create from search campaigns to youtube promotion
             Efficiency
We focus on results
We can rise your sales, the number of your clients and your profit
You can administrate your business while we take care of your account
We give you monthly reports
Contact us, we answer in maximum 24 h!
We mannage everything!
Setting KPI's – Creating and AdWords account – Key words research – Campaign texts – Banners – Quality Score Optimization – User Experience Optimization – Monthly reports. We can creat search, display, remarketing or dynamic ad campaigns at a low price. Find how we can grow your business in online through PPC. Contact us today!
The promotion with the help of Google AdWords is important at one hand for the set-up, and on the other hand for a business with experience in the domain. The efficiency of Google Ads comercials is closely tied with the optimization of the PPC campaign, the budget, and with the experience of the agency you work with.
The successful campaigns are those that are permanently optimized by the qualifyed stuff in order to have maximum results with the offered budget.
Don't let the money you invest to waste. Choose to work with proffessionals.